Think of it as blogging like the big boys…..or in this case, the big girl!
When it comes to corporate blogs, you probably don't get much bigger than Google.  And one of my favorite websites in the entire solar system, Hubspot, published a post this week on 4 Business Blogging Lessons from Google's Chief Blogger.  Gosh, I think I'd like a title like that some day….
And guess what!  Their Chief Blogger is a woman!  Suhweeeeet!
Our Super-Blog-Chick, also known as Karen Wickre, answered 4 questions about blogging for business and how to do it effectively.  While Karen provided good tips for corporate types, I'd like to add my insights on how they translate for the entrepreneur, the small business owner, the self-employed professional, and the DIY business blogger. Read more
"Eighty percent of success is showing up."  – Woody Allen
If this truly is the case, then there's about 25 women in the south bay who are destined for greatness, not to mention the two exceptionally engaging and smart gals at Gather Your Crowd.
Last Thursday, Beth and I had the honor of sharing the stage with Cherie De Carlo and Carla Yashiro at the Women Entrepreneurs of the Bay Area meeting in San Mateo.  Cherie and Carla specialize in helping small and medium sized business use social media tools to build their brand, get found online and engage meaningfully with their prospects, customers, partners and vendors.
Far from being a whitewash of how useful blogging and social media is for business – duh! – Cherie and Carla shared specific tips and tools you can use to have a blog that serves your business goals, gets found by search engines and is consistent in it's message. Read more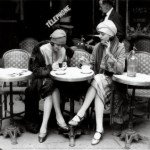 Writing your blog can be like shouting into a canyon and getting no echo.
Do you ever feel that way?
I certainly did when I first started blogging.
There are two things that happened that changed that feeling of utter loneliness into a sense of community, and that can work for you to: Read more

There's a first time for everything.  First steps. First date. First kiss. First job. First blog post.  And the Breakfast Blogging Club is no exception.  Just last week we received our first ever link exchange request, shored up by a glowing review of our Quick Start Guide to Writing Your Blog. O.M.G.
Here's what happened:  I received an email from Roger over at Published & Profitable complimenting us on the quality of the information we provide from our Quick Start Guide.  The email included a link to a post he wrote about the Guide on his blog, and concluded with a request to exchange blog rolls. Read more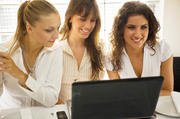 "Real Marketing by Real People"
Lunch & Learn Panel Discussion, Friday, May 14th, 11:30am-1pm

Ever wondered how other entrepreneurs use social media to market their business?  Wouldn't you just LOVE to ask questions of real business women to find out the reality of using social networks and online media to promote their products and services.
Did they have a plan?  Or did they just wing it?  Would you like to hear about what worked and what didn't?
Here's your chance to get your questions answered… Read more