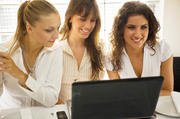 "Real Marketing by Real People"
Lunch & Learn Panel Discussion, Friday, May 14th, 11:30am-1pm

Ever wondered how other entrepreneurs use social media to market their business?  Wouldn't you just LOVE to ask questions of real business women to find out the reality of using social networks and online media to promote their products and services.
Did they have a plan?  Or did they just wing it?  Would you like to hear about what worked and what didn't?
Here's your chance to get your questions answered… Read more