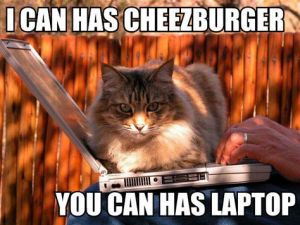 I can't believe I've been sending out weekly blog topics for nearly 11 months and have never used one as a blog post here on the Breakfast Blogging Club!  So without further ado, here is Week 47 of your Juicy Blog Topics…
————————————————————————————–
Hi <put your name here>,
"How can you squander even one more day not taking advantage of the greatest shifts of our generation? How dare you settle for less when the world has made it so easy for you to be remarkable?" – Seth Godin, Seth's Blog
Ready for Week #47 of your juicy blog topics to spark your writing?
Today's blogging topic: Your Blog's Relationship with Social Media Read more
Blogging and cooking are a lot alike.
Both require a minimum of planning, the right ingredients, some time, and a state of emotional readiness, a desire to please, and an end goal of pleasure. Both also create a tangible end result that creates an experience for the audience.
What are the ingredients for a good blog?
Know who you're cooking for? Who is your target audience?
Know what your end result will be. If you're cooking an omelet, you need to know that at the start. If you're writing a list of do's and don't's you need to know that, too.
What experience or result to you want you readers, your audience, to have? Just like you want to offer a savory or maybe a sweet meal to you and your loved ones, you need to know what kind of flavor or emotional experience you want to offer your blog readers. Read more

There's a first time for everything.  First steps. First date. First kiss. First job. First blog post.  And the Breakfast Blogging Club is no exception.  Just last week we received our first ever link exchange request, shored up by a glowing review of our Quick Start Guide to Writing Your Blog. O.M.G.
Here's what happened:  I received an email from Roger over at Published & Profitable complimenting us on the quality of the information we provide from our Quick Start Guide.  The email included a link to a post he wrote about the Guide on his blog, and concluded with a request to exchange blog rolls. Read more
Do you sit a lot at the computer in a fixed position? Is most of your work down in email, blogs, and social media networks?
You may think that blogging is all about sitting in front of your computer and writing. But actually, blogging is about the pauses to take, the breaks, and the physical movements away from the computer. And if you just implement blogging yoga on a regular basis, then you'll be able to integrate your knowledge better and  write more with less effort and more ease. Read more
I didn't get my first car until I was 22.  I know, a total late-bloomer in the auto department!  I was starting graduate school in Phoenix, AZ and as a gift, my parents got me a sssuhweeeeet metallic blue 1966 Ford Mustang.  It was in great condition and I was immediately in love. Read more