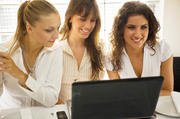 "Real Marketing by Real People"
Lunch & Learn Panel Discussion, Friday, May 14th, 11:30am-1pm

Ever wondered how other entrepreneurs use social media to market their business?  Wouldn't you just LOVE to ask questions of real business women to find out the reality of using social networks and online media to promote their products and services.
Did they have a plan?  Or did they just wing it?  Would you like to hear about what worked and what didn't?
Here's your chance to get your questions answered… Read more
First of all, a HUGE thanks to all the folks who've come to our Breakfast Blogging Club(BBC) meetings and workshops over the past year and a half!  We've been slowly and steadily getting the word out.  So more and more people are hearing about us and joining in the blogging fun.  Cool!
As of this month(April 2010), we've had over 25 meetings and have helped over 200 entrepreneurs with their blogging efforts.  That's a modest number, I know.  But I wanted to take a moment and acknowledge some of the people and establishments that have helped us get this far. Read more
Do you sit a lot at the computer in a fixed position? Is most of your work down in email, blogs, and social media networks?
You may think that blogging is all about sitting in front of your computer and writing. But actually, blogging is about the pauses to take, the breaks, and the physical movements away from the computer. And if you just implement blogging yoga on a regular basis, then you'll be able to integrate your knowledge better and  write more with less effort and more ease. Read more