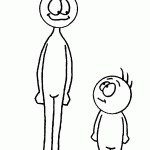 Recently, I was asked to write a short post for the San Francisco Writers Community, and my first attempt, was well, long. I did write a second post that the editor liked much better. He said, "Send me more, even shorter!"
Shorter!
I'm a novelist. I like to write long!
Luckily, I like the challenge of writing short too!
At a recent Breakfast Blogging Club workshop, I presented on how to write a short post. Read more

Remember that Tootsie Pop commercial with the owl?
"How many licks does it take to get to the center of a Tootsie Pop?"
1……2……3…….CRUNCH!
3!
So, how many blog posts does it take to make a sale?
1…2…3…4…5…6…7…8…9…10…11…..yep, keep going.
While I'm sure there's some blogger on the planet who can claim to have gotten a lead or made a sale after 3 blog posts, for the rest of us hard-working mortals, it takes more than that.  Lots more.
Wanna know how many? Read more

There's a first time for everything.  First steps. First date. First kiss. First job. First blog post.  And the Breakfast Blogging Club is no exception.  Just last week we received our first ever link exchange request, shored up by a glowing review of our Quick Start Guide to Writing Your Blog. O.M.G.
Here's what happened:  I received an email from Roger over at Published & Profitable complimenting us on the quality of the information we provide from our Quick Start Guide.  The email included a link to a post he wrote about the Guide on his blog, and concluded with a request to exchange blog rolls. Read more