"Why the hell am I doing this?"  "Does anyone read my posts?"  "It's hard to make time time to write."  "I don't know what to write about."  "What's the ROI, anyway?!"
Danger.  Danger.  Danger.
Any of these questions and doubts show up for you?  The Breakfast Blogging Club usually meets twice a month in person.  Sometimes, it feels like a long time in between meetings.  During these long stretches, I often ponder, "Am I making a difference for anyone?"
Danger.  Danger. Read more
Join us for our next Breakfast Blogging Club workshop September 8th, 9 – 11:30am, at the Z Cafe and Bar in Oakland. Preregistration required because we only have room for 15 bloggers.  See our About page for more details.
You can register by emailing us through this site's contact form. Or, register through our page on Meetup.com.
Topic: How to Get More Comments on Your Blog
And, we'll write a post, of course!
See you there!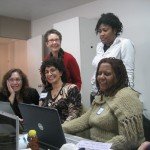 Greetings! Beth Barany here… Our March 10th Oakland workshop was full of fun and good writing. What made it such a success? I'll let you in on a little secret… A great blogging workshop includes:
Full participation by our 10 participants
Great questions
Great exercises!
"Excellent facilitators!" — Janet Peischel, Marketing Consultant
"I am so grateful to Beth and Cheryl for providing this forum for new bloggers. Thank you both for assembling such a dynamic and creative group." — Isabelle Choinere-Correa, Insights and Foresights

 Our first Breakfast Blogging Club Workshop was a delicious success!
A full workshop, nine cool people (and one no show) up to interesting endeavors, plus Cheryl and I (Beth), ate breakfast, talked about writing then actually blogged.
Here's what one of our participants said:
"One of the best seminars about blogging I've taken. The first time I went to a seminar in a long time where I wished it was two hours longer!" — Judi Townsend, Mannequin Madness 
We're excited to announce our next workshop, Tuesday, March 10, 9-11am, at the Z Cafe & Bar (same time and place). Over half of February's participants have signed up for the March workshop, so we only have a few spots left. Contact us to secure your spot today. More details here.
Due to our success and the overwhelimg interest, we will open up a second date in March. We'll keep you posted!
To Your Blogging Sucess!
Cheryl