Blogging and cooking are a lot alike.
Both require a minimum of planning, the right ingredients, some time, and a state of emotional readiness, a desire to please, and an end goal of pleasure. Both also create a tangible end result that creates an experience for the audience.
What are the ingredients for a good blog?
Know who you're cooking for? Who is your target audience?
Know what your end result will be. If you're cooking an omelet, you need to know that at the start. If you're writing a list of do's and don't's you need to know that, too.
What experience or result to you want you readers, your audience, to have? Just like you want to offer a savory or maybe a sweet meal to you and your loved ones, you need to know what kind of flavor or emotional experience you want to offer your blog readers. Read more
June 7, 2010 by
Beth
·
Comments Off

on Blogging is Better in Community
Filed under:
Marketing Tips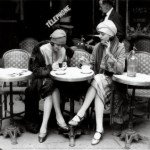 Writing your blog can be like shouting into a canyon and getting no echo.
Do you ever feel that way?
I certainly did when I first started blogging.
There are two things that happened that changed that feeling of utter loneliness into a sense of community, and that can work for you to: Read more