"Eighty percent of success is showing up."  – Woody Allen
If this truly is the case, then there's about 25 women in the south bay who are destined for greatness, not to mention the two exceptionally engaging and smart gals at Gather Your Crowd.
Last Thursday, Beth and I had the honor of sharing the stage with Cherie De Carlo and Carla Yashiro at the Women Entrepreneurs of the Bay Area meeting in San Mateo.  Cherie and Carla specialize in helping small and medium sized business use social media tools to build their brand, get found online and engage meaningfully with their prospects, customers, partners and vendors.
Far from being a whitewash of how useful blogging and social media is for business – duh! – Cherie and Carla shared specific tips and tools you can use to have a blog that serves your business goals, gets found by search engines and is consistent in it's message. Read more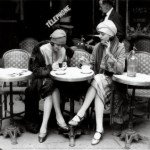 Writing your blog can be like shouting into a canyon and getting no echo.
Do you ever feel that way?
I certainly did when I first started blogging.
There are two things that happened that changed that feeling of utter loneliness into a sense of community, and that can work for you to: Read more

Remember that Tootsie Pop commercial with the owl?
"How many licks does it take to get to the center of a Tootsie Pop?"
1……2……3…….CRUNCH!
3!
So, how many blog posts does it take to make a sale?
1…2…3…4…5…6…7…8…9…10…11…..yep, keep going.
While I'm sure there's some blogger on the planet who can claim to have gotten a lead or made a sale after 3 blog posts, for the rest of us hard-working mortals, it takes more than that.  Lots more.
Wanna know how many? Read more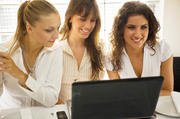 "Real Marketing by Real People"
Lunch & Learn Panel Discussion, Friday, May 14th, 11:30am-1pm

Ever wondered how other entrepreneurs use social media to market their business?  Wouldn't you just LOVE to ask questions of real business women to find out the reality of using social networks and online media to promote their products and services.
Did they have a plan?  Or did they just wing it?  Would you like to hear about what worked and what didn't?
Here's your chance to get your questions answered… Read more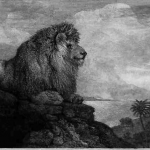 In step 1 of your 2010 Blogging Plan we looked at overall business goals.  Before starting a blog, it's important to clarify how it will fit in with the goals of your business.  How will the blog function as a tool for marketing? Will it help build a list of leads, promote a product or service, enhance web search rankings, build expertise, communicate with prospects and clients, all of the above, and more!??
That leads us to Step 2 of your 2010 Blogging Plan: Positioning.   Read more