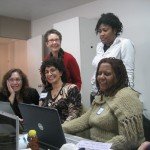 Greetings! Beth Barany here… Our March 10th Oakland workshop was full of fun and good writing. What made it such a success? I'll let you in on a little secret… A great blogging workshop includes:
Full participation by our 10 participants
Great questions
Great exercises!
"Excellent facilitators!" — Janet Peischel, Marketing Consultant
"I am so grateful to Beth and Cheryl for providing this forum for new bloggers. Thank you both for assembling such a dynamic and creative group." — Isabelle Choinere-Correa, Insights and Foresights

 Our first Breakfast Blogging Club Workshop was a delicious success!
A full workshop, nine cool people (and one no show) up to interesting endeavors, plus Cheryl and I (Beth), ate breakfast, talked about writing then actually blogged.
Here's what one of our participants said:
"One of the best seminars about blogging I've taken. The first time I went to a seminar in a long time where I wished it was two hours longer!" — Judi Townsend, Mannequin Madness 
We're excited to announce our next workshop, Tuesday, March 10, 9-11am, at the Z Cafe & Bar (same time and place). Over half of February's participants have signed up for the March workshop, so we only have a few spots left. Contact us to secure your spot today. More details here.
Due to our success and the overwhelimg interest, we will open up a second date in March. We'll keep you posted!
To Your Blogging Sucess!
Cheryl