Many bloggers think that blogging it is about content, but actually is all about their audiences' needs. If you get clear on who your audience is, and what they want, then your blog can reach into the hearts and minds of your readers and gain a steady following.
Inspired by a conversation with Breakfast Blogging Club member, Sandra Edwards, I realized that we bloggers can open up to our audience and key into to who they are and what they want in a fun way.
So far we've covered the first three steps of a 2010 Blogging Plan. Those steps included:
Business Goals
Positioning Your Blog
Engagement

Step 4 is the Content Plan for your blog.  This is where you plan what you'll write about and what kinds of posts you can incorporate into your blog.  This may seem too structured for some.  But what we've found is that it helps to have a set schedule that guides your efforts.  Once you've got some momentum and experience, it's easier to deviate and start improvising. Read more
Beth Barany here…
I was recently reminded of being a beginner again when I started tutoring elementary school kids. At eight or nine years old, most everything you learn is for the first time. When the kids  delight in using "Obama" in a Hangman spelling game, or express glee at a rearrange-the-letter phonics exercise, their wonder is contagious.
Cheryl and I (Beth Barany) had a wonderful Breakfast Blogging Club workshop last week in Oakland. Our topic of the day was how to write a success story. To a full house of entrepreneurs, we covered how to tell a compelling story in approximately 500 words, then covered how to create links in your post.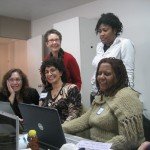 Greetings! Beth Barany here… Our March 10th Oakland workshop was full of fun and good writing. What made it such a success? I'll let you in on a little secret… A great blogging workshop includes:
Full participation by our 10 participants
Great questions
Great exercises!
"Excellent facilitators!" — Janet Peischel, Marketing Consultant
"I am so grateful to Beth and Cheryl for providing this forum for new bloggers. Thank you both for assembling such a dynamic and creative group." — Isabelle Choinere-Correa, Insights and Foresights