Secrets to a Great Blogging Workshop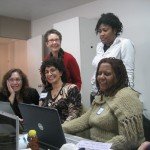 Greetings! Beth Barany here… Our March 10th Oakland workshop was full of fun and good writing. What made it such a success? I'll let you in on a little secret… A great blogging workshop includes:
Full participation by our 10 participants
Great questions
Great exercises!
"Excellent facilitators!" — Janet Peischel, Marketing Consultant
"I am so grateful to Beth and Cheryl for providing this forum for new bloggers. Thank you both for assembling such a dynamic and creative group." — Isabelle Choinere-Correa, Insights and Foresights



Come To the Page: Being Seen
We addressed the inner aspects of writing: the fear of being seen. When we know what we fear we can face it in the eye, and then do something about it. Participants shared their fears, worries, and negative self-talk about writing their blog posts. One reported that the need to write a perfect post stopped her from even beginning her first draft. Another said that she was afraid of what others in her industry might think of her.
After acknowledging our fears, we looked at the positive emotional and sensory state of writing. One participant reported that she felt that a wonderful writing state was the pauses, the moments when she looked up from the page and breathed in preparation for the deep dive back into her writing. Another said that she felt powerful and strong when she sat down to write.
Blog Title Creation
Once we blissed out on imagining the perfect writing day, we looked at one of the most important aspects of writing a good post: blog title creation.
Cheryl explained to us why blog titles are important: they get your post read, help you gain readership and help rank your post higher in the search engines. So, how do we create good titles? Cheryl shared the two important components:
Trigger Words
Trigger words serve to get us to sit up and pay attention, tapping into our primal brains. They are action and emotion words like:
Little known ways
Achieve
Reveal/Revealed
Answer
Get
Solve
Secret
Master
Unleash
Create
and more…
Keywords
Keywords are important and relevant words for your target audience, specific to your industry. Plug in your keywords into this site and watch it generate lots more. More keywords means more ideas for future blog topics.
Once we brainstormed relevant trigger words and keywords for each of our businesses, we jotted down some blog topics. What do you get when you mix this all together? You get kickass blog titles! I had fun with this mix and match game. Here's some of the blog titles I came up with:
Shatter Your Writer's Block
Little Known Ways to Write a First Draft
Master Your Internal Critic
Unleash Your Excellent Inner Editor
Timed Writing Revealed
And more!
Then we wrote during the 20-minute timed writing session. By the time we stopped everyone had written full posts, or nearly. Quiet smiles of contentment all around. To see what some of our participants wrote, check out our blogroll!
Until next time, Breakfast Bloggers!
Comments