8 Reasons to Say Thank You
First of all, a HUGE thanks to all the folks who've come to our Breakfast Blogging Club(BBC) meetings and workshops over the past year and a half!  We've been slowly and steadily getting the word out.  So more and more people are hearing about us and joining in the blogging fun.  Cool!
As of this month(April 2010), we've had over 25 meetings and have helped over 200 entrepreneurs with their blogging efforts.  That's a modest number, I know.  But I wanted to take a moment and acknowledge some of the people and establishments that have helped us get this far.
Rooz Cafe – Beth and I meet at Rooz on Piedmont Ave every week to plan and brainstorm about the BBC.  We also voice our dreams, concerns, ideas and rants about our respective businesses.  With a few exceptions, we've been meeting there weekly for going on 2 years now.  The people are friendly, the coffee is great, the food yummy, and the wi-fi fast and reliable.  We appreciate the casual atmosphere, and feel at home at "our" back table.  Fan 'em (or really LIKE them) on Facebook |  @Roozcafe
Z Cafe & Bar – When we started thinking about where to hold our meetings, we had several factors on our wish list: the venue needed to have private or semi-private space, good food & coffee, a convenient location and wi-fi access,….oh, and it had to be affordable.  Initially I was pessimistic about finding a venue that could satisfy all those requirements.  But we came across "The Z" almost right away.  We are very happy there and extend a huge thanks to Mehdi, Ta, Sarina & Lizzie for taking such great care of our participants.  Facebook
Patrick Schwerdtfeger (yeah, that's 13 letters, only 3 vowels…all of them E's) – Patrick was an early supporter and has always had nice things to say about our blogging club.  Actually, Patrick usually has a kind word for just about everyone.  And that's what makes him so awesome. Smart, easy-going, and generous with his knowledge, he's contributed more than a few ideas – and his time as a guest presenter – to our club.  With his growing speaking and writing success, he inspires us to share our own gifts with the same dedication and graciousness.  Website  | @Schwerdtfeger
Peter Ferguson – He's our got-to guy for a lot of our web and technical questions.  Having helped tremendously with both versions of our website, he's knowledgeable, professional, adventurous and cute!  We applaud the creative and helpful content he's created that helps the DIY blogger. Website  | @iCrackerjack
Darren Rowse –  No, I don't know him personally, but for anyone who's ever started a blog, it's only a matter of time before they come across Darren and his down-to-earth, all-things-blogging website.  His clear tone and generous nature make it a peaceful and reliable destination for tips and advice on blogging.  I LOVED his '31 Days to a Better Blog'.  It's great for beginner and newer bloggers.  And it's free to sign up.  Do it.  Website |  @ProBlogger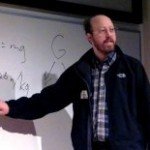 Ezra Barany – This tall, dapper fellow is many things: a high school physics teacher, aspiring author, gamer, musician and composer, and Beth's awesome hubby.  He's helped out the Breakfast Blogging Club in so many ways, so I want to sincerely acknowledge his time and efforts.  In fact, I'm pretty excited about his composing some original music, which will be used for timed writing exercises at our meetings and workshops.  And finally, he also did a fabulous job of filming and editing the giggle-inducing Thank You video referenced at the end of our Quick Start Guide.  Thanks, Ez!  Check out his book trailer.
And since I'm writing this post, I get to say Thank You to my partner in this 'Hero's Blogging Journey' – Beth Barany.  To be honest, I probably could have started the Breakfast Blogging Club by myself.  But I know beyond a shadow of a doubt that it would never, EVER have gotten this far, been as much fun, or made as much of an impact on other people, if it hadn't been for her!  She keeps me grounded, focused and moving forward.  Her passion for writing has made me a better writer, and I'm grateful for all of her time, efforts, patience, ideas, and encouragement.  Website |  @bethbookcoach
Lastly, and I'll say it again……I'm thankful for all of the amazing people who've joined us for blogging and breakfast. You guys are the reason why we do what we do.  Your a-ha moments, smiles of accomplishment and laughter at our jokes are precious, and keep us going and growing.  Hugs for all of you!
Comments