"Real Marketing by Real People"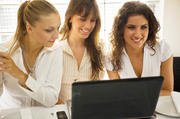 "Real Marketing by Real People"
Lunch & Learn Panel Discussion, Friday, May 14th, 11:30am-1pm

Ever wondered how other entrepreneurs use social media to market their business?  Wouldn't you just LOVE to ask questions of real business women to find out the reality of using social networks and online media to promote their products and services.
Did they have a plan?  Or did they just wing it?  Would you like to hear about what worked and what didn't?
Here's your chance to get your questions answered…
Cheryl Liquori, co-founder of the Breakfast Blogging Club, also runs Webifying Women, a network of San Francisco Bay Area women entrepreneurs who want to learn and apply specific actions for marketing our businesses online. It's a privilege to present our panel of three accomplished women entrepreneurs: one sells products via her website, one offers book coaching and publishing consulting, and the other is involved on one of the most conservative and highly regulated industries out there – insurance.
Meet our Panelists: here
Comments